ACCESS INFORMATION
Start and Goal
Ohnoyama Stadium in Naha City.
1 min by walk from Tsubogawa station (There is a same name station as Ohnoyama koen, but the nearest is here).
10 min by walk from Naha Bus Terminal (Near Asahibashi station).
5–10 min by taxi from Naha Airport (= Naha kuko).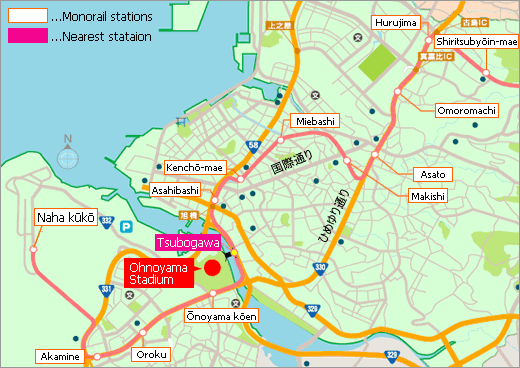 The Stadium Map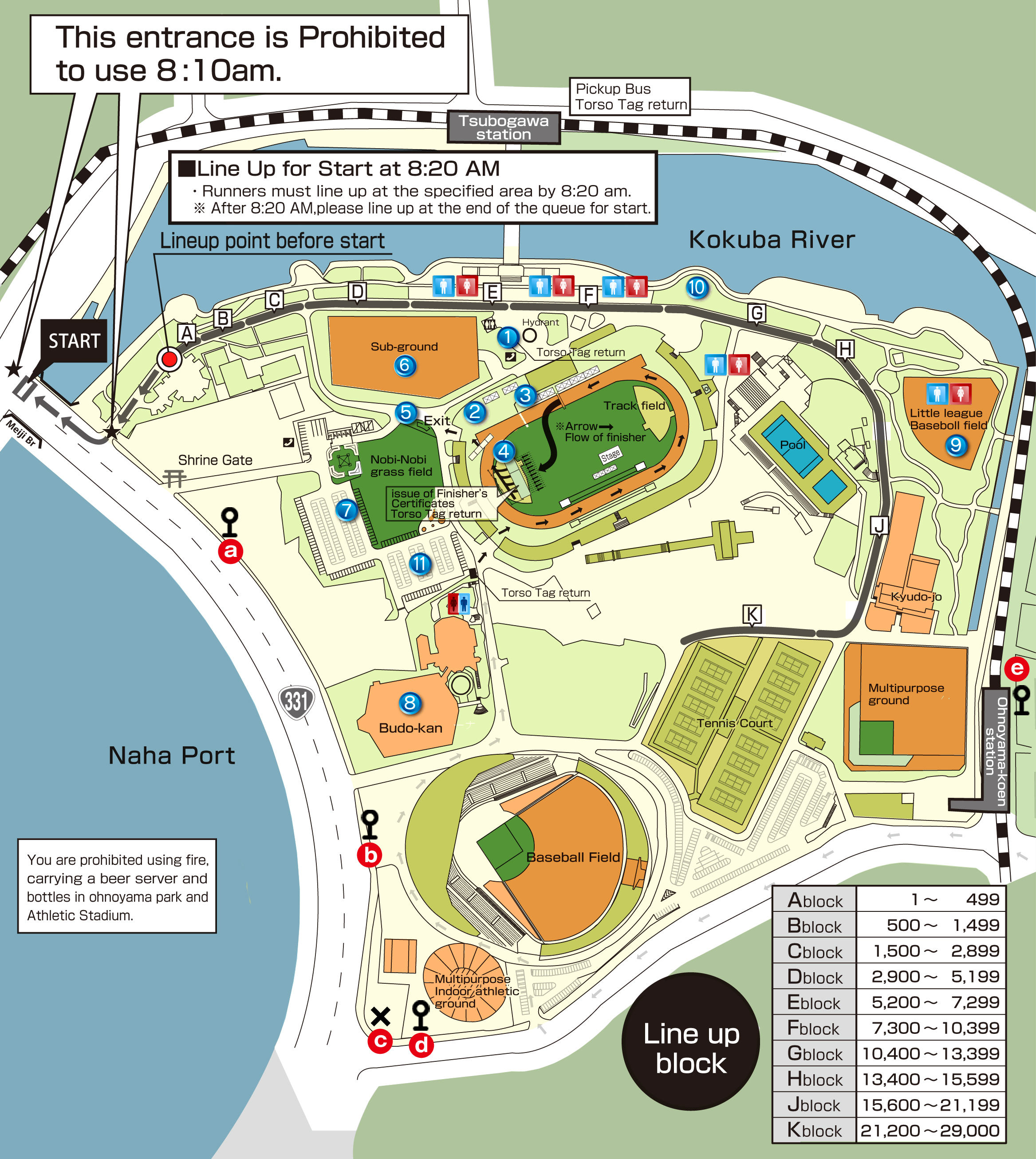 1. Information Desk
Registration of Special Drink
(7:00am to 7:20am on the race day.)
2. The administration
3. Finish Gate
4. Issue of Finisher's Certificates & medals
5. Sports Drinks
6. Sub-ground
(1.Sponsors Booths, 2.Food & Drink Booths)
7. Medical Center
8. Arena in Prefectural Budo-kan
Dec,1 1.Reception for Runners
2.Opening Ceremony
Dec,2 1.Reception for Runners
2.Depository of Valuables(pay)
9. Depository of Luggage
10. Changing room
11. Open space with grass(Massage,Taping)
Provisional parking
A provisional parking lot will be made available on the free zone side to the west of the Naha Military Port (near Naha Airport). Free shuttle buses will be operating between the provisional parking lot and the venue.
Provisional parking lot operating hours
| | |
| --- | --- |
| Day before race for runner registrations: | December 1 (Saturday) from 9:00 AM to 8:30 PM |
| On the race day: | December 2 (Sunday) from 5:00 AM to 6:00 PM |
* Cars remaining after the closing time will be towed to another parking location with a tow truck. Transportation fees and parking fees and the like will be charged to the owner of the vehicle in such instances. Drivers are directed to move their cars to outside the gates before closing time.