About the Medical Treatment and Rescue System of NAHA Marathon
The Emergency Situation of the 32nd NAHA Marathon
In the 32nd NAHA Marathon, the average temperature was 25.9°C, the humidity was 75%, and it was cloudy. When the marathon started, it was cloudy, but the temperature rose to 28°C, which was the highest record as a temperature in December updated for the first time in 102 years, so it was very hot. It is considered that the temperature exceeded 30℃ on the marathon course.
Under this weather, many runners collapsed due to dehydration, convulsion, vertigo, etc., and more than 60 runners were carried to hospitals, and 22 people were hospitalized due to heat strokes. Five people needed treatment in the ICU. Out of them, one person passed away in a month.
In the NAHA Marathon, based on the introspection of the initiatives of countermeasures against the heat, the medial treatment system has been strengthened. However, each runner's daily preparation and health check are also very important. Considering this problem has nothing to do with me can cause an accident. Please check your physical condition, and enjoy running wisely in good physical condition.
Initiatives taken since the 33rd NAHA Marathon
Checking Heat Index (WBGT) *What is Heat Index?
Installation of heat stroke countermeasure goods at clinics and first-aid stations
Increasing the number of doctors and nurses
Increasing the number of Aid Stations
At the spots of 5 km (Kohagura), 17 km (Gushichan), 29 km (Itoman Maezato) and 35 km (Tomigusuku Onaga)
NAHA Marathon's Medical Treatment
The medical treatment will be done under the system which focuses on the emergency medical treatment, and only first-aid treatment will be done for the injuries and sickness caused in the competition. To treat seriously injured or sick persons for sure, massage, taping, compress, cold spray and treatment for shoe-sore will not be provided at first-aid stations. So those who need such treatments should prepare them by themselves.
Marathon is a sport that can be enjoyed easily but has a high risk of getting injuries and sickness. Please read the following passages and participate in the NAHA Marathon as a runner in good physical condition.
Just in case―Filling in the Number Card
On the back side of the number card you receive in the registration for participation, you will find the fields for (1) emergency contact, (2) medical history and (3) medicines not to be taken. Those are necessary information to save your life. It might cause you inconvenience, but please fill out these fields and participate in the marathon at ease.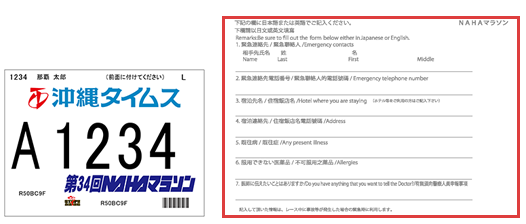 *Design is a sample
The day's belongings checklist
Necessary things
Useful things to have
Transportation expenses
Insurance card
Snack (Energy jelly、salt, Sugar content、Mineral supplementation etc)
Heat stroke, rain measures:hat, Sun visor, Raincoat etc
Cooling spray, Adhesive bandage, Vaseline etc
Water (PET bottle)